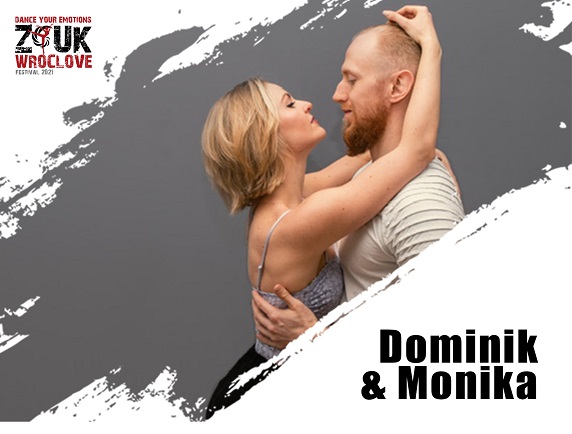 Dominik & Monika

Monika and Dominik started dancing when they were about 12 years old, and now they are one of the precursors of Brazilian Zouk in Katowice – the city in Poland where they live.
Monika gained her dancing experience during her 7-year adventure with ballroom and latin dancing. In 2013, she discovered the Brazilian Zouk – her greatest dance passion so far. In addition to studying Zouk, she also attended jazz and contemporary dance classes for some time.
Dominik started his dancing career as a hip-hop dancer, he also had the opportunity to work as a dance actor in one of the Polish Theaters. After 10 years of teaching hip-hop, he met Monika, who showed and introduced him to the world of Brazilian Zouk.
From 2015, they both decided to teach this dance as a couple. In 2020, Dominik and Monika went to Rio de Janeiro and São Paulo for the first time, where they learned from the best artists and teachers from around the world. During the trip, they took part in the international "Jack and Jill" competition at the Rio Zouk Congress festival, where they advanced to the finals and won 4th and 7th place in the novice category.
In 2021, they passed the certification exam in the MAC project (Course in the methodology of teaching Brazilian Zouk created by Alex de Carvalho) in Paris, thus becoming certified Brazilian Zouk instructors. The course consisted of 80 hours of lectures and lessons and Monika passed the exam with the best result in the entire history of the project.
In 2022, they both returned to Brazil, where they became the first Polish couple in the history of Brazilian Zouk to teach fully in Portuguese at a festival in Brazil. Dominik and Monika taught at two festivals in total: Summer Zouk in Rio organized by Renata Peçancha herself and at the largest festival organized in São Paulo – the International Zouk Congress (IZC).
In Poland, Monika and Dominik teach Brazilian Zouk mainly in Katowice, but also in various other cities and abroad. In recent years, they have had the opportunity to teach Brazilian Zouk also in Rio de Janeiro (Brazil), São Paulo (Brazil), London (UK), Amsterdam (Netherlands), Edinburgh (Scotland) and Brno (Czech Republic). Their goal is to show the beauty of the Brazilian Zouk and spread the love for this dance among as many people as possible. During the classes, they focus on technique, musicality, the history of the Brazilian Zouk, countless possibilities of movement and, of course, the fun that this dance gives.