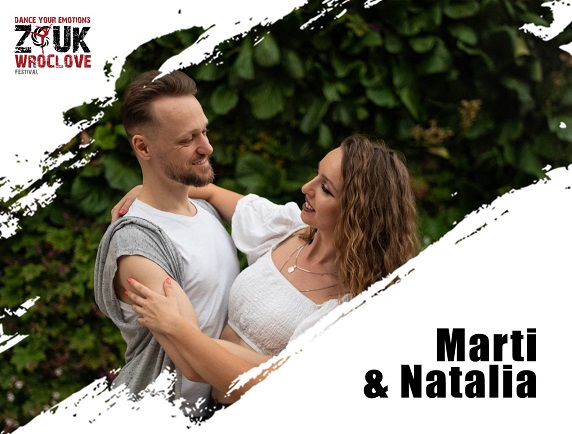 Marti
Dancer, choreographer and performer. Organizer and co-organizer of national and international dance festivals and cultural events. In his range of styles he has used various forms such as classic and modern ballet , folk dance, latin dance, ballroom dance, Jazz, Salsa, Bachata, Kizomba, Tango Argentino, West Coast Swing and Zouk, of course.
He has been developing his dancing skills since he was eleven. During this period he quitted dancing for theatre. Over a period of five years Marti was strongly involved in an amateur theatre community, especially the theatre of poetry. However, that time was also filled with other forms of art like literature, music, computer graphics and sculpture. After coming back dancing became his most important passion and intensive trainings led to numerous wins in the national and international competitions and tournaments.
His experience in acting and passion to diverse art forms make his choreographies, shows and projects full of incredible depth, appealing to the viewer not only consciously, but also subconsciously. Valuable knowledge and exceptional lucidity of content transfer during his workshops are the result of his interest in psychology and experience in teaching adults and children.
Natalia Gajcy
A dancer whose approach focuses on holistic development and balance between the physical, mental and spiritual spheres.
She treats dance as a free flow of energy, in which a person has the opportunity to fully express himself as a unique and authentic unit.
Her unique style of dance is primarily the result of an individual path of developing one's own skills, but also the result of cooperation with many dance teachers from different parts of the world. Numerous journeys allow her to constantly expand the range of her dancing skills.
She has trained not only in many dance styles, but also develops awareness through numerous workshops and therapeutic classes, such as Lowen's bioenergy analysis, Somatic Experiencing, exercises to relieve tension and stress – TRE, breathing techniques and yoga.
In 2020, she started constant cooperation with Marti and together they conducted many workshops for both the local dance community of Wrocław and dancers from around the world, including during the largest Brazilian Zouk festival, the Warsaw Zouk Festival. In 2021, she started cooperation with the Dance Wroclove Foundation to be able to support the development of Wrocław's dance community, and now she also conducts regular classes at La Rosa Negra, the largest dance school in Poland.
Natalia is very happy to share her experience and skills with students. She treats each class not only as a lesson for its participants, but also as an opportunity for her own mental and spiritual development.
On the one hand, she directs the Energy to conscious work with the body and
observation of signals coming from it, and on the other hand, does not forget to confront various emotions.
By allowing the release of feelings in dance, She makes others realize how the body regains its naturalness, fluidity and softness of movement.