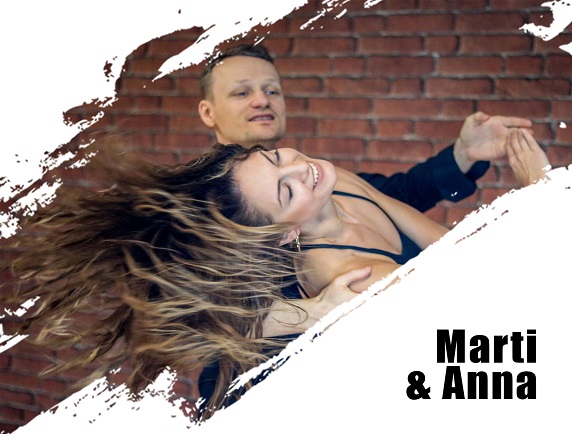 Marti & Anna
Creators of Zouk Wroclove Festival. They have their own unique style characterized by incredible connection and fluid movement.
They both have been developing their dancing skills since early childhood. Intensive trainings led to numerous awards in sport dance competitions.
Their technique and musicality comes from various forms such as ballet, jazz, latin and ballroom dance, salsa, bachata, kizomba and, of course, zouk.
As teachers they always share with everyone their positive energy and give particular attention to dancing ergonomics – to protect leaders' and followers' bodies from damage (especially in Zouk)
Marti
Dancer, choreographer and performer. Organizer and co-organizer of national and international dance festivals and cultural events. In his range of styles he has used various forms such as classic and modern ballet , folk dance, latin dance, ballroom dance, Jazz, Salsa, Bachata, Kizomba, Tango Argentino, West Coast Swing and Zouk, of course.
He has been developing his dancing skills since he was eleven. During this period he quitted dancing for theatre. Over a period of five years Marti was strongly involved in an amateur theatre community, especially the theatre of poetry. However, that time was also filled with other forms of art like literature, music, computer graphics and sculpture. After coming back dancing became his most important passion and intensive trainings led to numerous wins in the national and international competitions and tournaments.
His experience in acting and passion to diverse art forms make his choreographies, shows and projects full of incredible depth, appealing to the viewer not only consciously, but also subconsciously. Valuable knowledge and exceptional lucidity of content transfer during his workshops are the result of his interest in psychology and experience in teaching adults and children.
Anna
Anna has been dancing since childhood. Starting with ballet and jazz, and continuing with ballroom and latin styles. As a participant of various national and international competitions she won numerous awards. Finally she developed in the area of social dance.
Whilst living in Spain she started to learn, and immediately fell in love with, such styles as bachata, kizomba and zouk. Moreover, Anna possesses an international certificate as a dancing instructor.
As a teacher she always shares her positive energy with everybody and gives particular attention to dancing ergonomics – to protect the lady's back and neck (especially in Zouk).