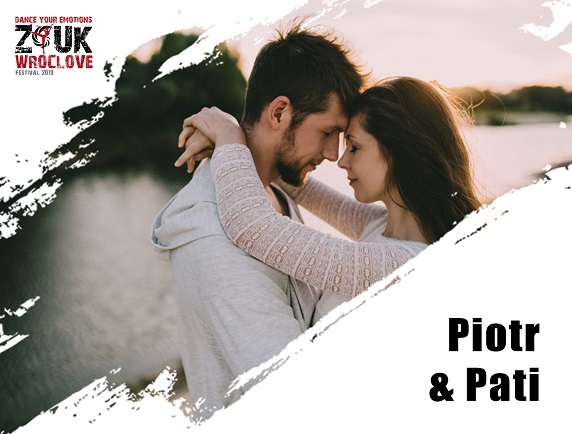 Piotr & Patrycja

Kunio & Pati ZouKuny have been a dance couple for over 5 years.

In 2019, they both obtained the international certification of Brazilian Zouk trainers according to the Alex de Carvalho methodology. In 2021, they also completed the full Brazilian Zouk Teachers Training by Larissa & Kadu. They are the co-organizers of the Abra Zouk Festival and the creators of the Video Zouk On! Competition. They run Team ZouKuny and the group of Patrycja – Lady Kuna.

On a daily basis, he conducts Brazilian Zouk classes at Abra Studio in Warsaw at all levels of advancement in pairs and solo. They also teach during workshops at festivals and trips both in Poland and abroad. The classes are conducted in a way that effectively finds the balance between the dance technique and having fun.
ZouKuny is distinguished by unusual workshop workshops in an accessible way, even with the most difficult elements. Piotr, like Patrycja, is also Blackroll coaches. They provide their students with opportunities for dance development and teach them how to take care of the dancer's body.

Patrycja Wasiak
She teaches contemporary jazz, modern jazz, Brazilian zouk, yoga, stretching and she is a trainer at Blackroll Polska. Multiple award of many, many dance competitions and festivals in the world, incl. in Canada, France, Portugal, Bulgaria, Czech Republic, Great Britain. In dance and the development of choreography, her education and acting experience help her a lot. For her, dance is a reflection of the soul, an emergence of a form of physicality, a beautiful meeting with the thought of another human being.

Piotr Kuniewski
Fully committed to the development and promotion of zouk. He introduced this dance style to several key dance schools in the capital, while having a real impact on expanding the community of enthusiasts of this beautiful dance. He believes that everyone can dance and achieve their dream dance skills. Piotr is also an international Blackroll instructor – he is aware of the need for proper regeneration and encourages students to go beyond the zouk framework into other dance styles. Kunio loves dancing since childhood. He has touched various dance styles over the years, with his most important development going back to 2013, when he discovered the world of latino. He is particularly interested incontemporary dance, popping, rolling and stretching. Salsa and bachata gave him a strong foundation in pair dancing. In the latter style, he has performed many times in Poland and abroad as part of the Ambassada Matys Inspiracje formation.
As part of @Moffy Digital Productions, Piotr makes recordings of dance productions together with Mateusz Wawrzyniak.