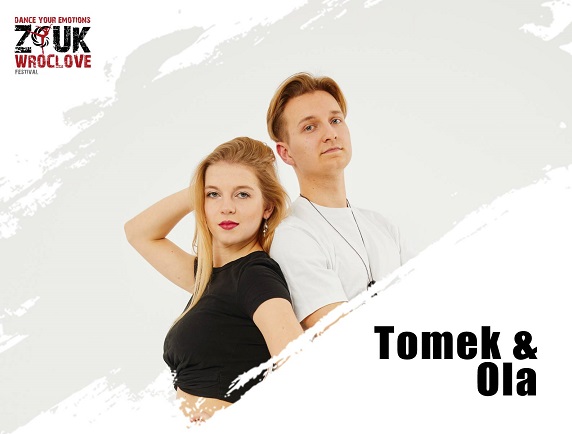 Tomek & Ola

Tomek and Ola are a pair of incredibly expressive dancers who, with their exceptional energy are encouraging people to dance. They are known as the people who broaden the music horizons, by showing how to dance to every music style. They are learning from the biggest world zouk authorities with enthusiasm, at the same time creating their own style without any hesitation.
They love the development and are reaching out to different dance styles like reggaeton, ballet, and contemporary for inspiration. Both of them are experienced pedagogs that are ready to explain even the hardest zouk tricks. During the classes, Ola and Tomek are favoring the chill atmosphere, precise explanation, and humorous metaphors. They are showing the diversity of zouk to their trainees so that people are learning to be universal dancers independently of the zouk style and country they dance in.
Tomek always says: "the best definition of dance is the one that you can hit the dance floor with". He took his first dance steps learning salsa Cubana and bachata. However, the style, in which he expresses himself the best, he found out in 2019 and it was zouk. He instantly fell in love with the music, energy, and freedom present in zouk. Tomek begins his journey learning from the best teachers in the polish and the world dance
scene during many festivals and private lessons. His goal was to learn the individual features that are making each teacher stand out from the others, ad on the base of that builds his own style. He won the best dance movie contest ZoukON twice. He also won first place in the J&J contest during Warsaw Zouk Festival in 2022.
Ola is dancing since childhood. Beginning in jazz and acrobatics, she grew the desire to dance in pairs. She met the salsa and bachata along the way but it was the zouk that stole her heart. Ola is dancing the Brazilian Zouk for more than 10 years, but from 6 is building the zouk community in Warsaw. She is a certified choreographer and teacher with many years of experience. She had the pleasure of teaching in zouk workshops and festivals in Poland and abroad. One's can remember her as a mentor of the choreographic group "The Beetles", which she was working with for 4 years. As a pedagog Ola is focusing on comprehensive development, musicality, and connection in pairs. Her classes are full of great dance technique and humorous metaphors.